Table of content
Finally you and your partner have decided to join in marriage and are about to make it official in front of the civil registry. However, this celebration cannot remain in their memories as one more diligence, but they should make a great wedding with extremely simple ideas to recreate to transform your home into an excellent wedding hall.
That is why I have prepared 8 ideas of decoration for a simple civil wedding at home
of which you can be inspired to decorate your civil wedding. Fill yourself with inspiration and do not hesitate to mix some of the different models to create a super arrangement at your wedding that looks spectacular and according to your celebration.
Flower arrangements
One idea of decoration for a simple civil wedding at home that you can opt for is flower arrangements. These are a detail that can never be missing in the decoration of a wedding and that you can easily recreate in a home.
Both with a very striking color palette, as well as with pastel colors, you can get the initials of the bride and groom, hearts with lighting, a detail with the word love and even a welcome board to our wedding decorated with beautiful flowers to give it a touch romantic to decorate your wedding beautifully and simply at home.
Illumination
One idea of decoration for a simple civil wedding at home is lighting. Taking advantage of the characteristics of our home, including lighting will help us to enhance our decoration.
You can choose from a vast array of options when it comes to lighting in wedding decorations. Some examples are:
Lanterns
Candles
Hanging balls
Light chains
Light bulbs
Illuminated tables
Led lights
Mirror on the tables
Complementing the lighting decoration at the wedding, one idea of decoration for a simple civil wedding at home is to place a mirror on the table, on which you will place a lamp, candle, or other light option, which will give a beautiful reflection to the plates, glasses and centerpieces, creating a spectacular effect.
If you want to know more ideas on how to make wedding centerpieces you can click on my next blog.
Background frame
Another idea of ​​decoration for a simple civil wedding at home and that is a very elegant option is the background frame, which we can cover with artificial foliage and white flowers and we end up finishing with the series of lights that hang from it, wearing the same style to the arrangement of the table where the lights are changed for candles.
Decoration in the garden
If your house has an additional space such as a garden, this is a potential area for wedding decoration. For that reason, this is another idea of decoration for a simple civil wedding at home, since it allows us an arrangement of greater proportions such as: a decoration with giant balloons that immediately stands out inside of the arrangement of the party.
As well as it can be a decoration with a much more bohemian style, decorated the garden with a path of lights or candles, plants, flowers, lights and candles throughout the garden and rustic wooden details.
Wood decoration
Speaking of the rustic bohemian style that is so fashionable in weddings today, another idea of decoration for a simple civil wedding at home is the wooden decorations present both from the arch for the ceremony, as well as on the tables as centerpieces, welcome sign, initials of the bride and groom, etc.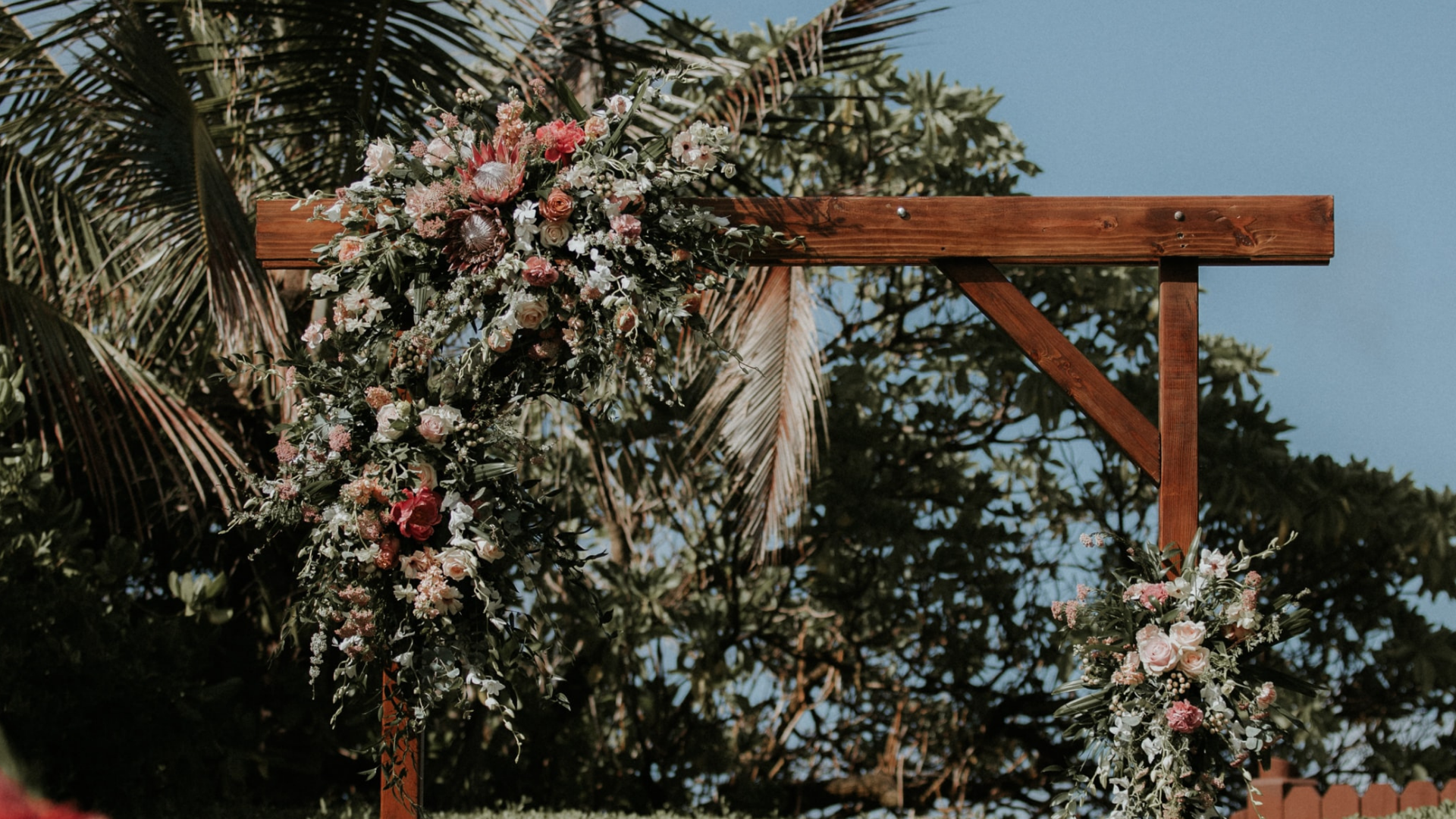 Photographs
Photographs will always be a beautiful detail, the reason why it is present as one idea of decoration for a simple civil wedding at home. They can hang strips of photographs that narrate their love story in images, giving a very personal touch to their decoration.
Take advantage of home furniture
A very good idea of ​​decoration for a simple civil wedding at home is to take advantage of the same furniture that the house has to adapt them and make them part of the wedding decoration.
Sometimes it is not necessary to move or get furniture if we can use what we already have. You can make a classic arrangement by placing desserts, flower arrangements, and photography on furniture within the same home.
Make simple home wedding decor a reality
There are a million options from which you can be inspired when looking for how to make a simple civil wedding decoration at home. What is also important is to make sure you have someone who will allow you to preserve these memories forever through beautiful photographs of this great day.
Allow me to portray every unforgettable moment of tonight in photographs that will last the rest of your life and relive every moment of what will be one of the most special days for you and your partner. Contact me!
Share on facebook
Facebook
Share on twitter
Twitter
Share on facebook
Facebook
Share on telegram
Telegram
Share on whatsapp
WhatsApp
Share on email
Email

You can see more photos on my social networks!
More content: 
Subscribe to our Newsletter
Hello! I'm Jorge Jarquin …
And I am a professional photographer! I could say that I love watching. The way I photograph is in a very intimate, personal and very authentic way. I am in the constant search to maintain the essence of the feelings and beauty of the wedding day in each image. Each wedding is different, unique and that is why they have a different magic that I love to capture.
For me, wedding photography means creating memories through images that are meaningful to you, beyond just being pretty. It's what you feel when you see the photos ten years from now and that your skin will turn up again when you see that kiss at the ceremony.
A bit of my portfolio: